GET FREE QUOTES FOR INSTALLATION OF STANDBY GENERATORS
Electrical generator
sets (a.k.a. gensets) generally are the most cost-effective emergency backup power devices. Their cost of course depends on many factors such as type, rated output, and equipment options.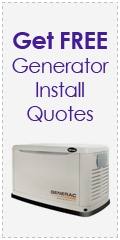 There are two main types of residential gensets: standby and portable.
Portables
are good primarily for small loads and short-term outages. If you want to supply for days an entire house or some major appliances such a central a/c, you need a
standby
system.
Standby gensets are hardwired to your house electrical wiring via a changeover system and connected to a natural gas line or a large stationary diesel or propane fuel tank. If you are looking for a
licensed electrician
to install a generator or need a quote for any other electrical work, please use the link to the
left
. You may receive one or more (if available for your requirements) free no-obligation quotes.
If you are a contractor or a generator installer who wants more qualified leads, click on the banner to the left.
After you complete your request they may send you a confirmation email with contact information and profiles of the home generators dealers who may be contacting you. Note that your contact information will be sent to and will be processed by third parties and will be subject to their privacy policies.